Roofing Services For Your
Residential or Commercial Property
At Final Touch Roofing and Remodeling we strive for excellence and only use the best materials on the market. We prefer to use GAF shingles and only install the lifetime roofing system. GAF is the #1 shingle manufacturer in North America and has been in business for over 130 years. We are a GAF Master Elite Contractor which is the highest distinction given in the industry. Only 2% of roofing contractors in North America are Master Elites and we have won every award that GAF offers to residential roofing contractors.
Many people do not realize that in the state of Texas there is no license requirement for roofing contractors. Unfortunately, a lot of roofing contractors use inferior materials, do not carry proper insurance and do not install the roof correctly which could void all warranties. We only install the best quality deck underlayment, starter, valley material, shingles, ventilation and hip and ridge shingles to complete the lifetime roofing system. We also offer the best roofing warranties in the industry. We will gladly come out to your home and do a free inspection, educate you about the materials and give you a free estimate to completely water proof your roof for years to come. Final Touch Roofing and Remodeling has experience working with all major brands of shingles.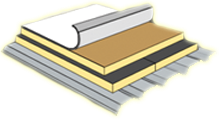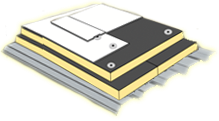 At Final Touch Roofing and Remodeling we always strive for perfection. We only use the best flat roofing materials in the market. Most flat roofs leak due to improper installation and inferior materials. Most people who have a flat roof know that its not if it leaks but when. A lot of roof homeowners have buckets around so when it rains they can place buckets to catch the water. When you call someone out to fix the leaks they usually show up with a five gallon bucket of tar and slap it around the leak areas. This is a temporary solution at best. Final Touch Roofing and Remodeling prefers to use GAF Liberty peel and stick modified roofing system for small flat roofs five to six squares or less. On full flat roofing jobs we only use TPO white single ply roofing systems. This flat roofing system has heat welded seams, has great reflectivity and carries a quality warranty. You can use tapered insulation to move water away from A/C units, walls etc. In our opinion its the best flat roofing material on the market.
Call today for more information!
Final Touch Roofing and Remodeling can service all of your commercial roofing needs. Wether it is a flat roof, metal, tile or composition shingle give us a call and we can give you a free estimate for your needs